Scholar, Academic, Journalist, Reagan Administration Assistant Treasury Secretary
We are quite fortunate to have Paul Craig Roberts as our guest on RichardGage911:UNLEASHED!
He is the well-known author of 10 books, including a severe critique of the Bush Administration, "The Neoconservative Threat to World Order – Washington's Perilous War for Hegemony."
He was no friend of the Obama Administration either. But we are lucky to have him on our side!
He has been a long-time outspoken supporter of my efforts with the Architects & Engineers for 9/11 Truth, and that at considerable risk to his reputation. He wrote this landmark article in the OpEd News which branded him as a "conspiracy theorist' by the mainstream media back on February 25 2010:
"The Washington Times is a newspaper that looks with favor upon the Bush/Cheney/Obama/neocon wars of aggression in the Middle East and favors making terrorists pay for 9/11. Therefore, I was surprised to learn on February 24 that the most popular story on the paper's website for the past three days was the "Inside the Beltway" report, "Explosive News," about the 31 press conferences in cities in the US and abroad on February 19 held by Architects and Engineers for 9/11 Truth, an organization of professionals which now has 1,000 members.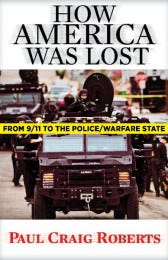 I was even more surprised that the news report treated the press conference seriously. How did three World Trade Center skyscrapers suddenly disintegrate into fine dust? How did massive steel beams in three skyscrapers suddenly fail as a result of short-lived, isolated, and low temperature fires? "A thousand architects and engineers want to know, and are calling on Congress to order a new investigation into the destruction of the Twin Towers and Building 7," reports the Washington Times."
He has as well written very recently a flurry of controversial articles related to the Ukrainian conflict which have landed him further into hot water, including:
And in this interview on USA Watchdog [8] he clarifies the history of Russia, Ukraine, the Minsk agreement, and the coup of 2014 that you will not see in the mainstream media. We will be discussing also in our interview with Craig as well – now that I am UNLEASHED!
---
Dr. Paul Craig Roberts is chairman of The Institute for Political Economy. He has had full-on careers in scholarship, academia, journalism, public service, and business.
He was associate editor and columnist for The Wall Street Journal [9] and columnist for Business Week and the Scripps Howard News Service. He was a nationally syndicated columnist for Creators Syndicate in Los Angeles. In 1992 he received the Warren Brookes Award for Excellence in Journalism. In 1993 the Forbes Media Guide ranked him as one of the top seven journalists in the United States.
Dr. Roberts has held academic appointments at Virginia Tech, Tulane University, University of New Mexico, Stanford University where he was Senior Research Fellow in the Hoover Institution, George Mason University where he had a joint appointment as professor of economics and professor of business administration, and Georgetown University where he held the William E. Simon Chair in Political Economy in the Center for Strategic and International Studies.
He has contributed chapters to numerous books, including "The Most Dangerous Book Ever Published [10]" and has published many articles in journals of scholarship, including the Journal of Political Economy, Oxford Economic Papers, Journal of Law and Economics, Studies in Banking and Finance, Journal of Monetary Economics, Public Choice, and dozens of others. He has entries in the McGraw-Hill Encyclopedia of Economics and the New Palgrave Dictionary of Money and Finance.
President Reagan appointed Dr. Roberts Assistant Secretary of the Treasury for Economic Policy.