Erik Lawyer & Fire Dept Captain Raul Angulo, Richard Gage, and Erik Lawyer of Protecting All Protectors Alliance with Boston 9/11 Volunteers Educate National Fire Protection Association Members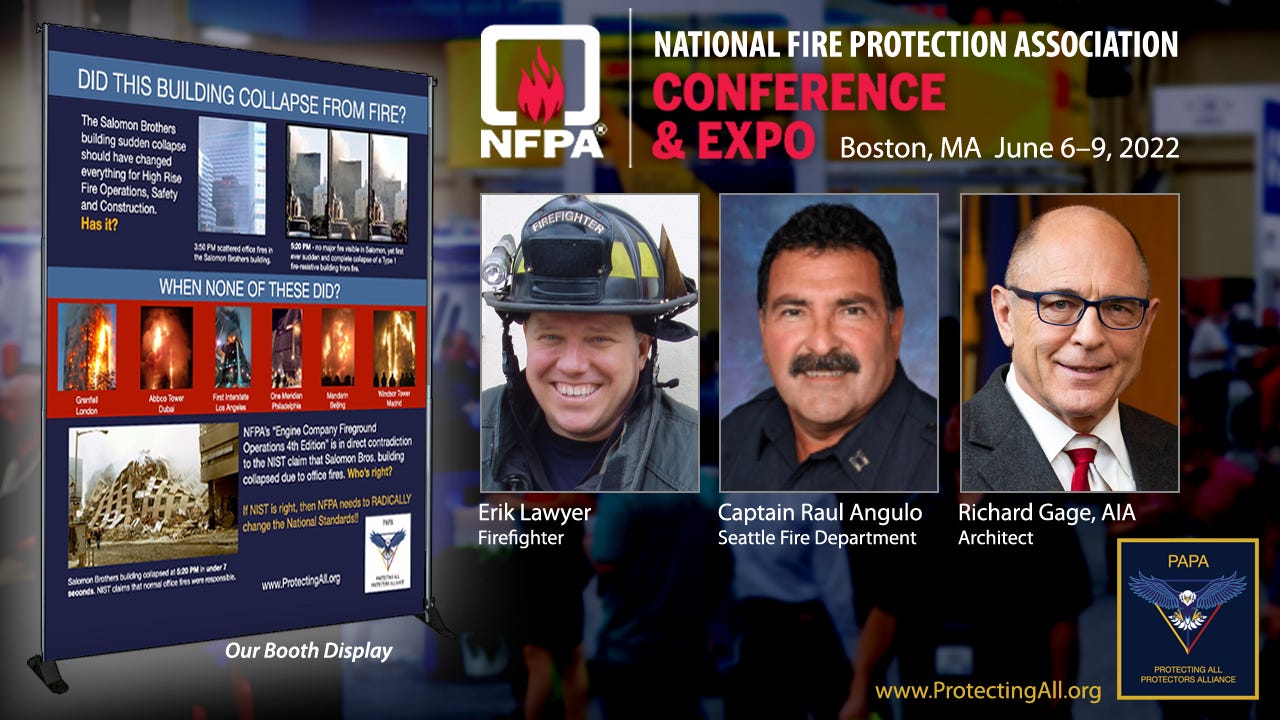 The incredible volunteers at Boston911 made it all possible. They just want to get it done! They never stop. And they don't show any signs of doing so. For almost 20 years they have been brainstorming, speaking, tabling, and moving mountains in order to educate their fellow New Englanders.
Well… they discovered in April that the annual convention of the National Fire Protection Association (NFPA) was happening—on their turf, and they weren't going to miss the opportunity this time to teach thousands about the "Salomon Brothers Building" that collapsed mysteriously, in 7-seconds – due to a "fire-induced progressive collapse" according to NIST – the National Institute of Standards & Technology.
[Note: if you see a "message clipped" by your email service then you can see the entire article here.]
So they reached deep into their rank and file and funded an evidence booth ($$$$) at the convention. We haven't done this since our outreach at the American Institute of Architects conventions—in which the AIA ultimately denied our access.
---
The Problem:
You see, the big problem is that the NFPA publishes the very standards, specifically NFPA 1700, for fighting fires in buildings like this, and guess what?! They send firefighters up into these buildings routinely to fight high-rise fires without concern of them collapsing on top of them! Hello?! Does anyone see a problem here?! The NFPA has completely ignored the Salomon Brothers building (yes—WTC 7—Shhhh!) Final Report by NIST since it was published in 2008—as if it never happened!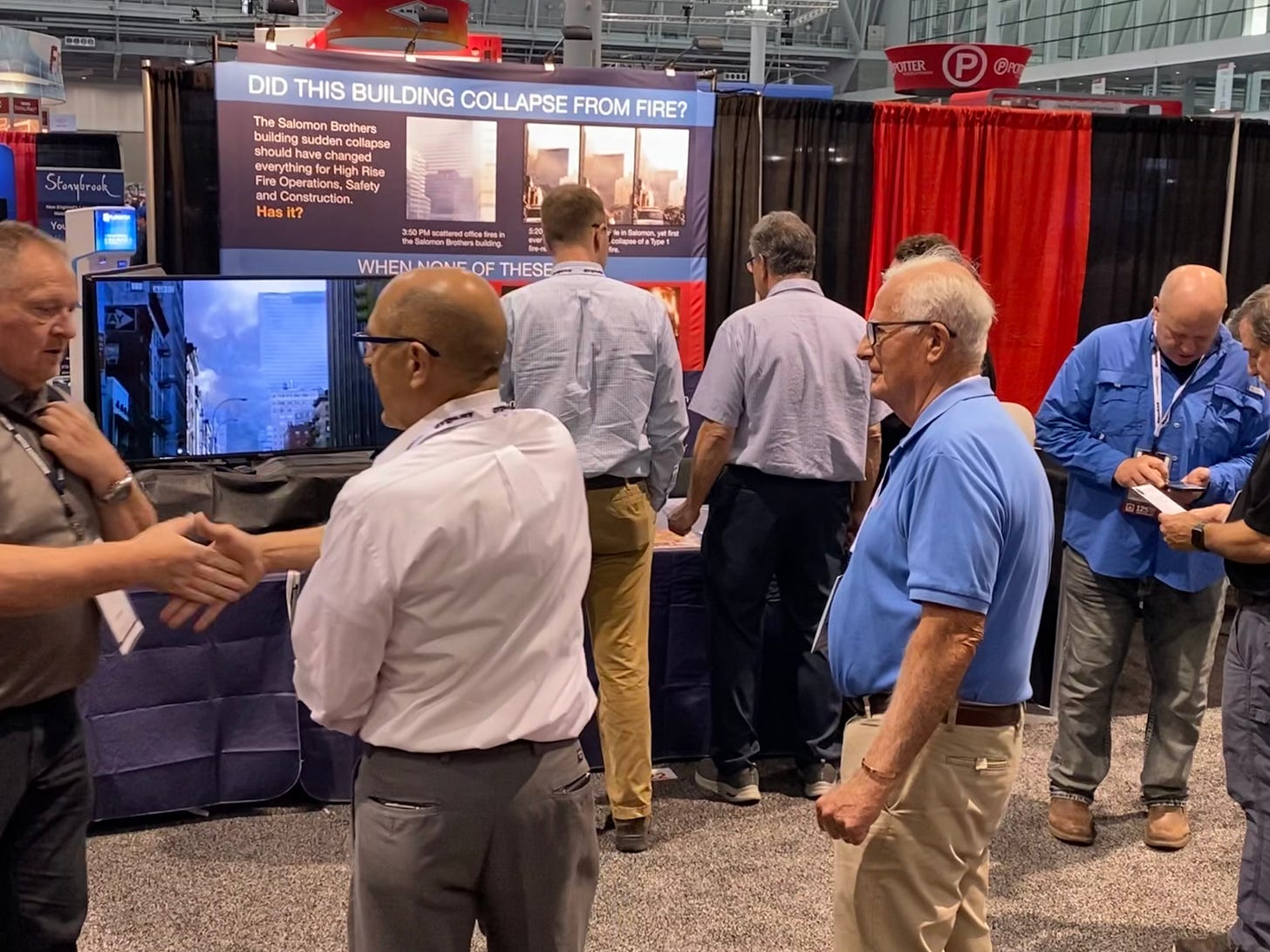 Along comes Captain Raul Angulo, 38 year veteran of the Seattle Fire Department, who has written the book, stamped by the NFPA, "Engine Company Fireground Operations" which uses the NFPA (and NIST) standards.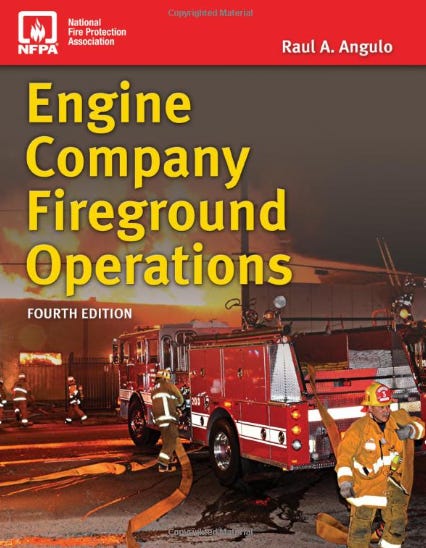 The NIST Report on Building 7 presented a huge problem for him, and the NFPA. Because if the conclusions in the Report are true, then the book which he authored for the NFPA must be fundamentally re-written. Firefighters lives along with the public are now at risk if fires can now bring down buildings due to a few hours of normal office fires—right on top of them as they are charging up the stairs with fire hoses to set forward staging operations 2 floors below the fire, and command centers on the ground floor.
Also, the current policy is to require the building occupants below the floors on fire to "defend in place" (wait in their offices), because the firefighters need the exit stairways to get to the fire!
So, there is a massive contradiction between the unprecedented "new phenomena" of Type-1 fire-protected high-rises succumbing to normal office fires, as now claimed by NIST, and the decades-old successful practice of relying on these buildings to perform well—even in the hottest fires.
After-all, Captain Angulo tells the convention participants strolling past our booth, "no such building has ever collapsed due to fire, ever – even though there have been much hotter, larger, and longer lasting fires in these buildings."
The Opportunity in Boston
These arguments were presented by the Captain, Erik Lawyer, myself, and our wonderful volunteers to hundreds of convention participants individually and in groups of up to five, over the three-days at our colorful evidence booth. There were fire protection engineers, fire chiefs & commissioners, firefighters, NFPA officers, and many other fire protection industry professionals.
We showed them the looped video of the collapse from about 10 angles – over and over again on the big TV screen.
I would simply point to the TV, after gaining their attention, and claim proudly, "I design buildings not to due this!" It works. They laugh and get engaged. Or… "We've lost our first fire-protected steel-frame high-rise due to fire—according to NIST," and I point to Captain Angulo and tell them why he is here at this convention to talk the them. I tell them who PAPA is, and I proceed to give them the information above in about 2 minutes.
Most of them want to hear more, because they get it. Who wouldn't? Most of them want to be on the list of those who get updated on this very important controversy in the fire protection community.
Our Method
So we scan their name tag with our phone app and they quickly go on their way. We then jump to the next engineer or fire official casually walking by, but captivated by the obvious controlled demolition confronting their path along this sea of convention product booths. We do this several hundred times during the 3-day opportunity to bring light to this world darkened by WTC 7 censorship in the architecture and engineering professions.
Most of these convention-goers were not even aware of the third worst structural failure in modern history. It has been swept under the rug of engineering history. This building should have been the most studied building failure in history—for no plane hit it, and yet it fell suddenly, symmetrically, at free-fall into it's own footprint in 7 seconds.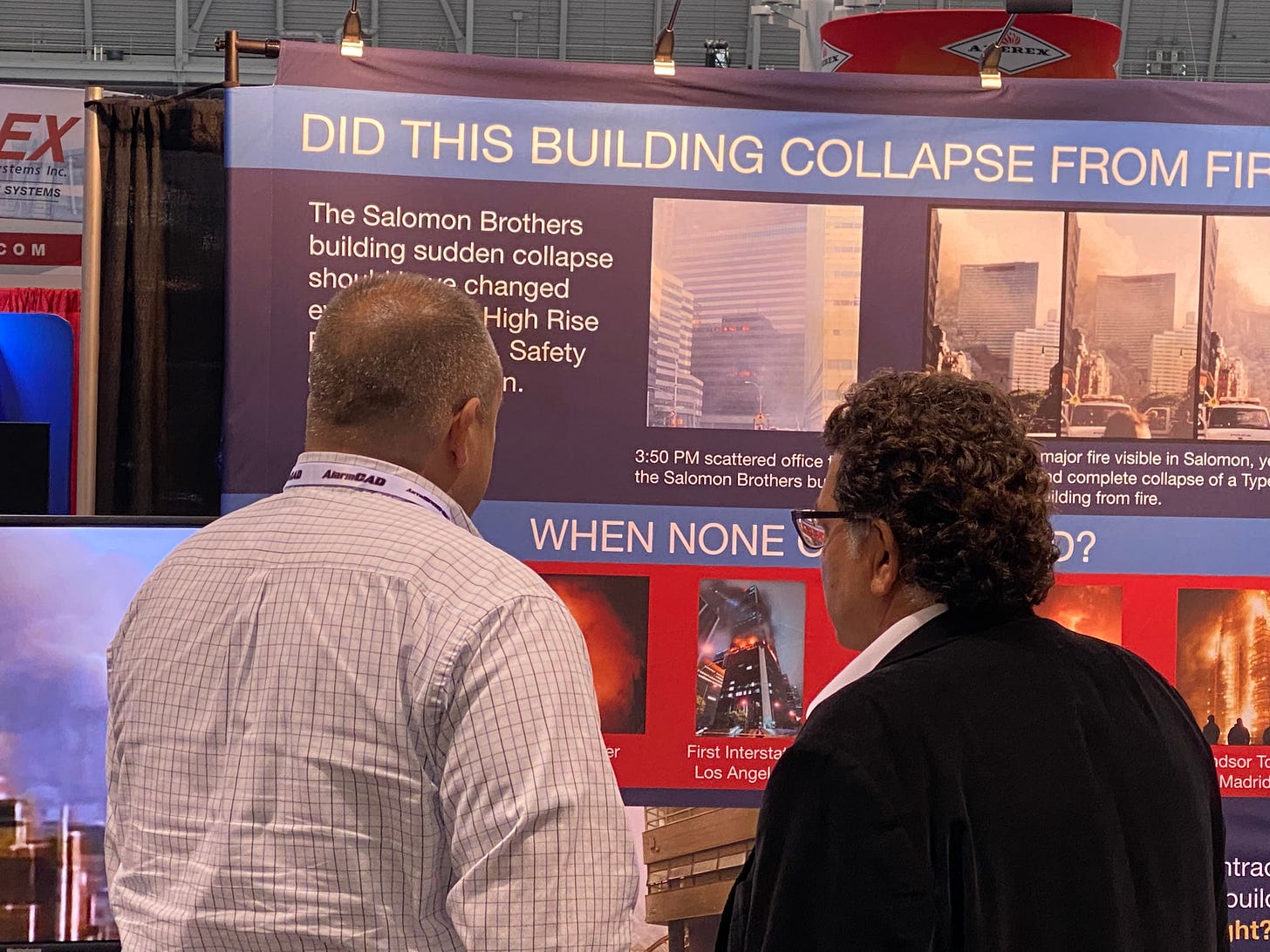 Those few that had eyes to see, pointing to it declaring "that's a controlled demolition!", we rewarded with the free DVD "SEVEN" excellently produced by AE911Truth and directed by Dylan Avery, so they could learn that indeed the fraudulent NIST report has been duly challenged by one one of the top forensic structural engineers in the country, Prof. Leroy Hulsey, at the University of Alaska in his 4-year finite element analysis.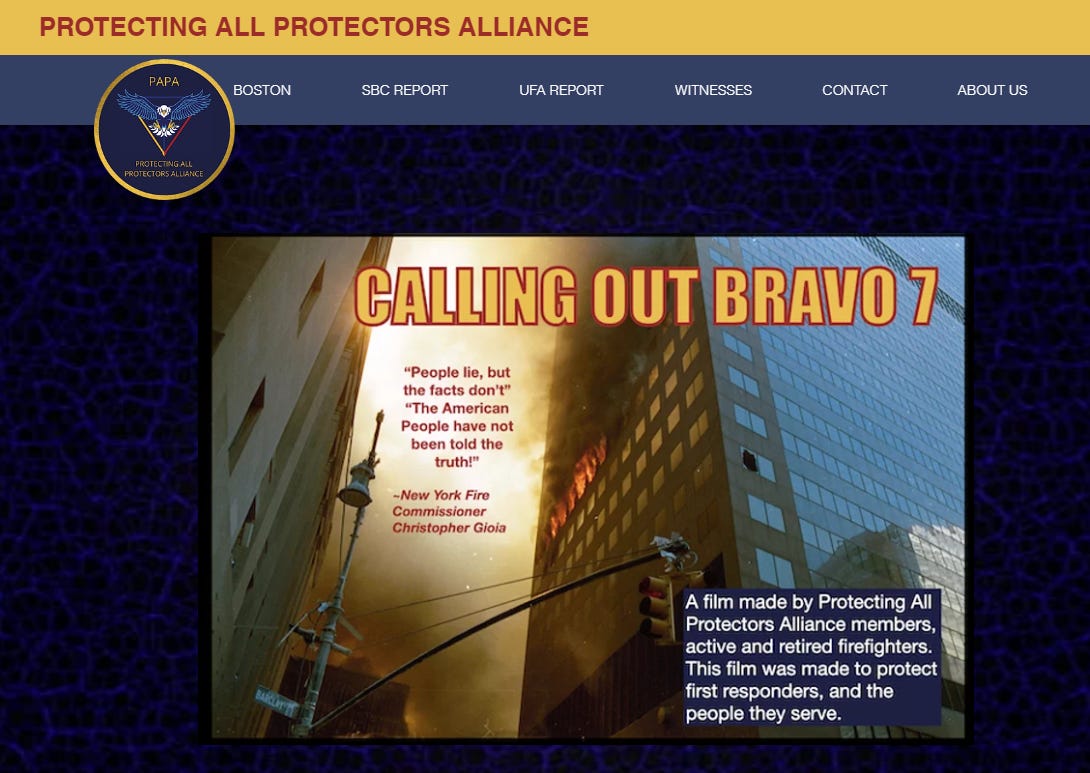 Protecting All Protectors Alliance
PAPA is the new organization Protecting All Protectors Alliance formed by former firefighter Erik Lawyer of Firefighters for 9/11 Truth, and other safety-minded individuals who care about the lives of fire fighters and the public, and who care about the reputation of the NFPA.
They have spent their own time and money to advocate for a formal review of the NIST report by the NFPA on the collapse of Building 7. They ask NFPA to take a stand:
Either confirm the conclusions of the Report that normal office fires brought down the building (and update the best practices for designing high-rises and fighting fires in these buildings), or reject the conclusions of the Report (and continue to rely on the successful decades-old strategy for fighting these fires).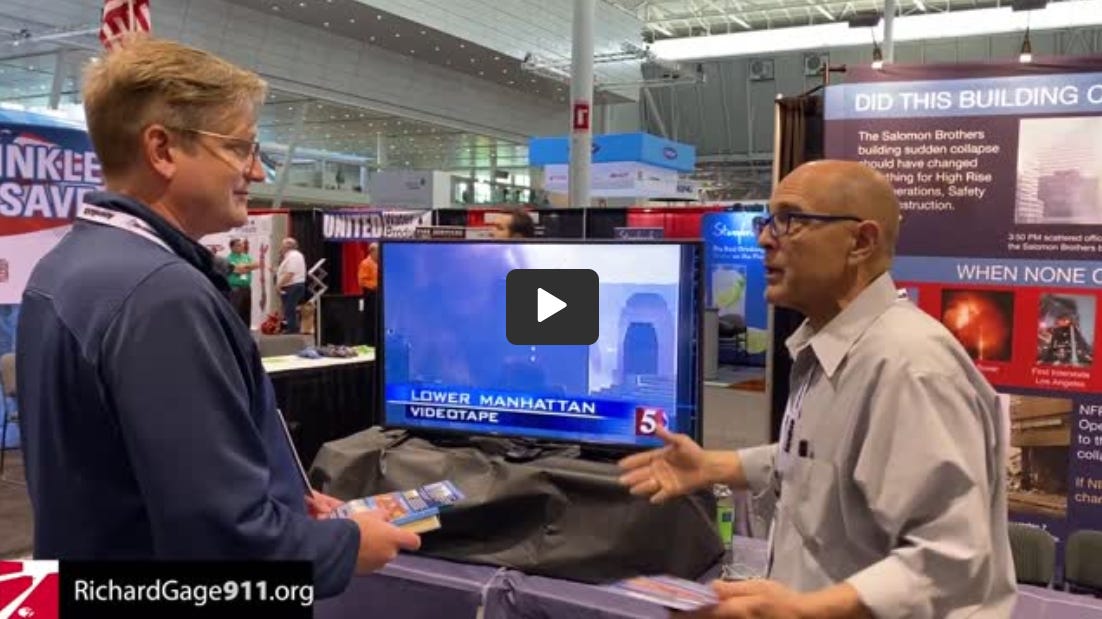 After all, there have been no structural engineering changes to the International Building Code that would strengthen the steel frame to resist the new phenomena of fire-induced progressive collapse.
Erik Lawyer
Erik Lawyer noted that, "NIST admits that they 'used no physical evidence in their investigation'. Yet, this collapse is completely unprecedented so the physical evidence should have been preserved, according to NFPA 921, in buildings that collapse due to fire. NIST claims that the 'initiation of collapse' was due to specific structural failures, yet there have been no improvements in the IBC that would keep such failures from occurring in the future! It's time now to talk about this—as adults."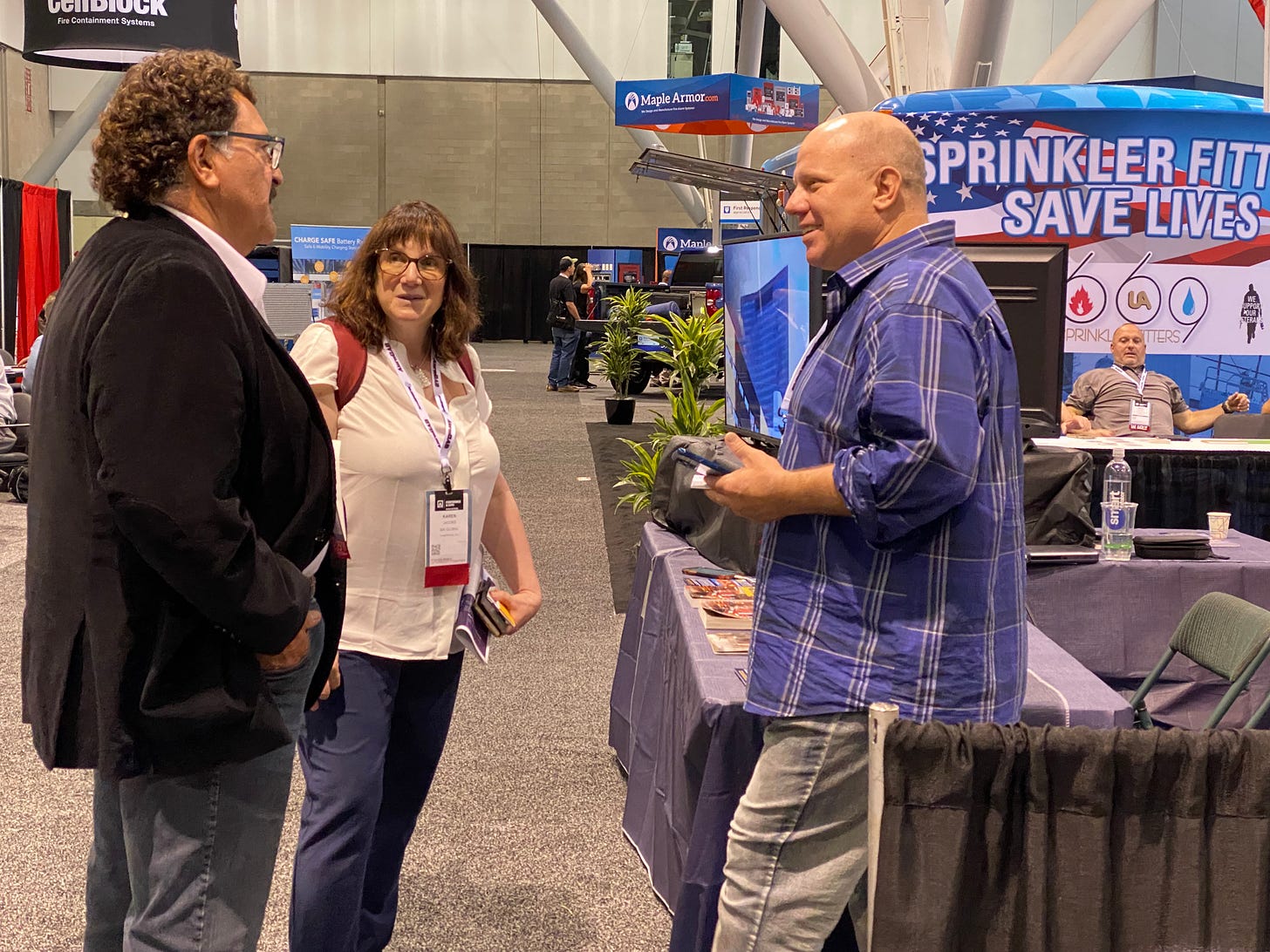 Reflecting on the overall experience at the convention, he said "the information was surprisingly well received" and that "very few people turned and ran from us—though certainly at least a few were visibly disturbed, and one even stated 'how did they let you guys in here?!'" But even he was brought to silence when the obvious contradictions, noted above, were pointed out to him.
Nevertheless, there were about 300 fire protection professionals who wanted to be apprised of the conversation between the NFPA and NIST, facilitated by PAPA, and therefore signed up on our email list. One of the keenly interested officials was the retired battalion chief in charge of fighting the fire at One Meridian Plaza in Philadelphia, PA, who even offered his assistance in the forthcoming communications.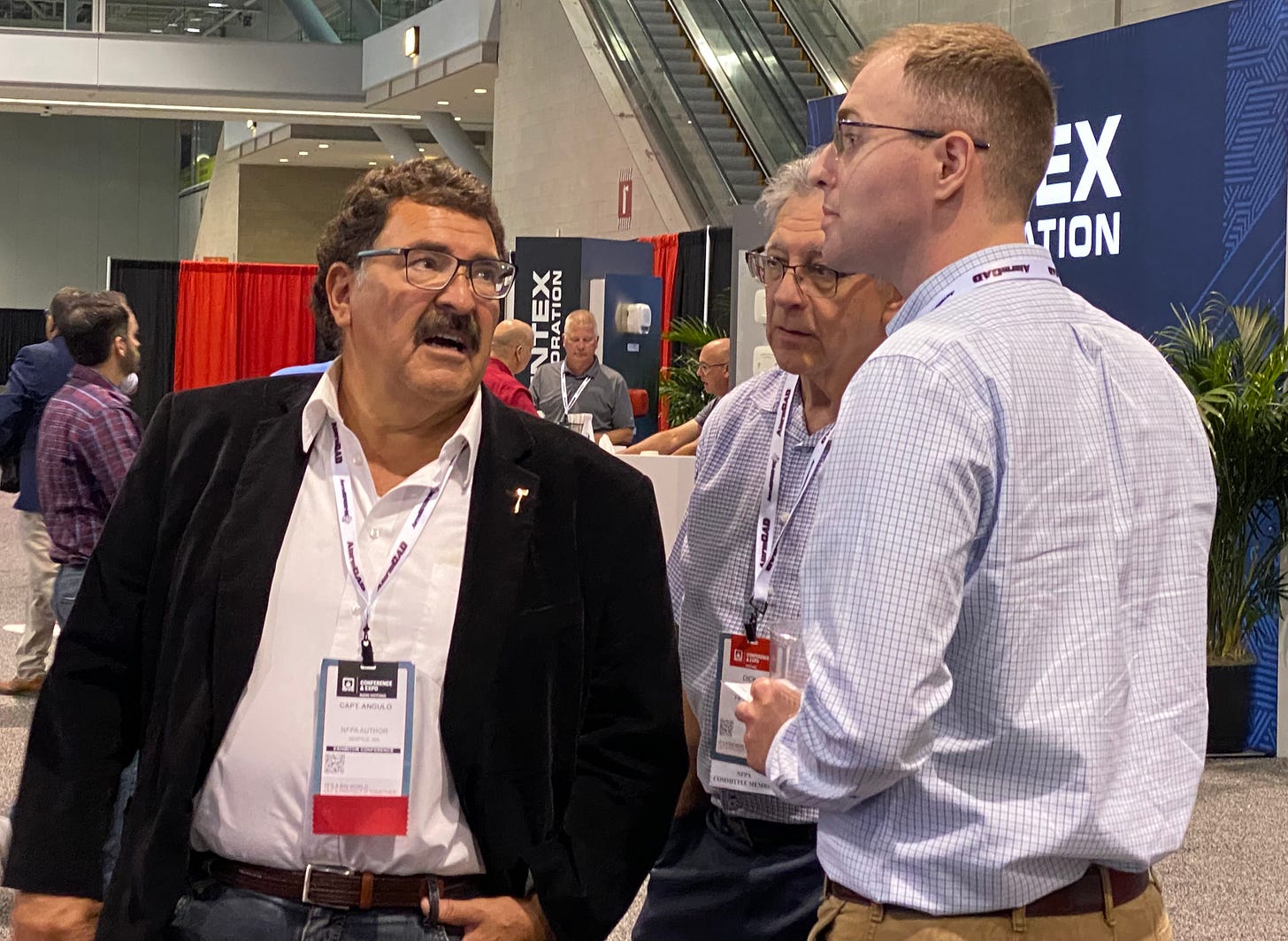 Seattle Fire Dept. Captain Raul Angulo
Captain Angulo noted that another was the company official responsible for installing key components for fighting fires in the building and was (unsuccessfully) sued by Larry Silverstein—the developer of the Salomon Brothers building in 1986. "He was quite in favor of the dialog being initiated by PAPA, and was in fact well aware of the darker implications of these discussions, offering assistance to the PAPA mission."
Raul notes, "The information about the Salomon Brothers building collapse has not permeated into the NFPA or into the physical firefighting training so that appropriate safety measures could be developed….The fire protection industry works because of trust. I rely on the credibility and accuracy of the publications like the codes and standards of the NFPA and NIST to ensure that my book is indeed the best practices. I have to be able to trust the information coming from them. I'm not a scientist or a structural engineer, but I'm the one going into the burning buildings with my team, not them. But we have to rely on the physical science they provide – not the political science."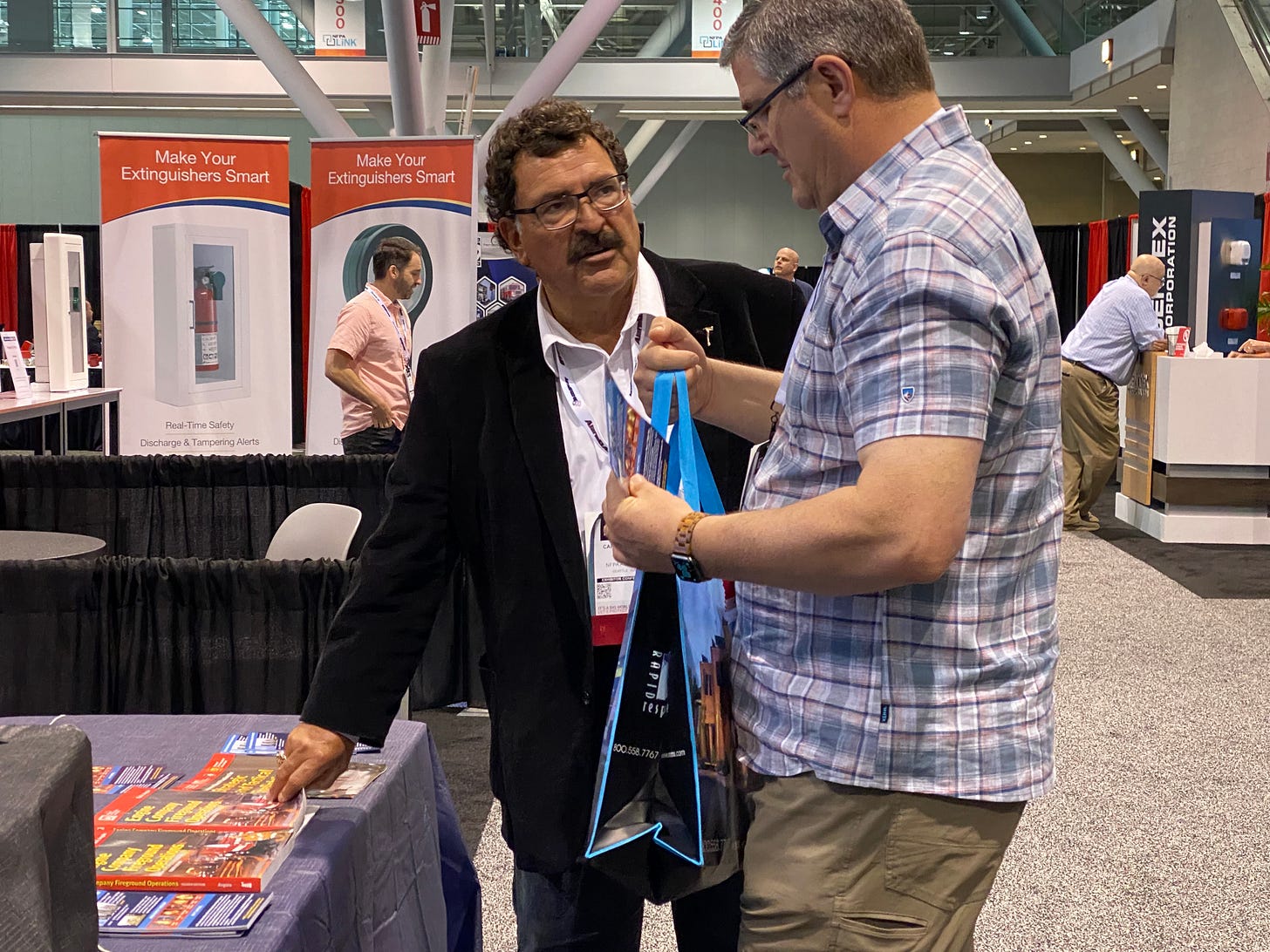 This major outreach effort was quite successful by all accounts, and the first of its kind to the fire protection community with an "under the radar" approach.
The combination of veteran firefighters Erik Lawyer and Captain Raul Angulo, who wrote the NFPA-stamped book on fighting fires in these structures, and myself as an architect of steel-frame fire-protected building, was a powerful force in the evidence booth that convinced hundreds of high level fire protection officials to sign the email list "joining the conversation." We have great confidence that this "conversation" will proceed at many angles up the NFPA chain of command.
The Follow-up
We will now follow-up with a series of well-crafted emails carefully inviting them, step by step, to the deeper controversies via Protecting All Protectors Alliance with the film Calling Out Bravo 7, an interview with Erik & Raul about their "why?", the Sudden Building Collapse paper by Paul Kayley, the Hulsey FEA Study, and finally a video of explosions witnesses to open the rabbit hole a bit further.
We hope to follow up with many more such convention opportunities around the country. Do you believe that this is a worthy effort? Want sponsor RichardGage911 to set up a booth at the next one?!
The Back Story
How did all this begin? Al Magaleta of Boston911 gave me a call in April alerting me to the NFPA convention in Boston and we pondering the possibilities of an evidence booth. We thought of who might want to participate and called Christopher Gioia, former fire commissioner from a New York area town, and also firefighter Erik Lawyer, a former Seattle firefighter who founded Firefighters for 9/11 Truth having been inspired by Architects & Engineers for 9/11 Truth who had gathered together by that time 1,000 A/E's demanding a new investigation.
Erik had moved on from the activism he started many years ago but Al and I decided to call him up on a wing and prayer.
Al and I walked right into it when we presented the idea of our hosting an evidence booth for 5,000 fire protection industry professionals.
Low and behold, he had actually already been in discussion with his former Captain at the Seattle Fire Department, Raul Angulo about the problem of World Trade Center Building 7.
There wasn't even a second of delay: "Yes." I was shocked! Erik's presence was huge in the 9/11 Truth Movement when he set up his organization, website, and petition about 14 years ago. We were thrilled as he explained the deep concerns of the Captain about Building 7, and that this "may be just the right context, the right venue, and the right time".https://www.youtube-nocookie.com/embed/DZBI6z1zXLU?rel=0&autoplay=0&showinfo=0&enablejsapi=0
Not knowing how the Boston911 community might respond, our fearless hosts began a very ambitious fundraising campaign. It took a couple of months, and several emails, but ultimately $9,000 was raised. Yes – it's crazy expensive with flights at $2.5K, the booth space & display $4.5K; carpet, electricity, badge scanner app, printing, etc. $2K. So, do this knowingly you guys! This budget didn't even reimburse Erik's or Raul's flights! They paid it themselves. So we need to still reimburse them! Please donate today directly to Boston911 and note "NFPA":