3-Days Sharing the WTC Explosive Evidence with Upper-Level Independents
[ See Report 1 of 3: The Panels ]
[ See Report 3 of 3: The RG911 Presentations ]
We had at least a couple of hundred visitors at our 9/11 Evidence Booth — giving us the opportunity to share with them about the explosive demolition of all three World Trade Center skyscrapers, and listen to their incredible 9/11 experiences and stories.
We end up learning a lot of new 9/11 info as we teach! Some of these folks were there and they saw the Towers come down.
In the video above Gail and Josh Willis are in non-stop motion to help people become aware of the depth of the conspiracy of crimes on 9/11.
We tried not to let anyone pass by the booth without placing a brochure in their hands – and hopefully go home with a DVD!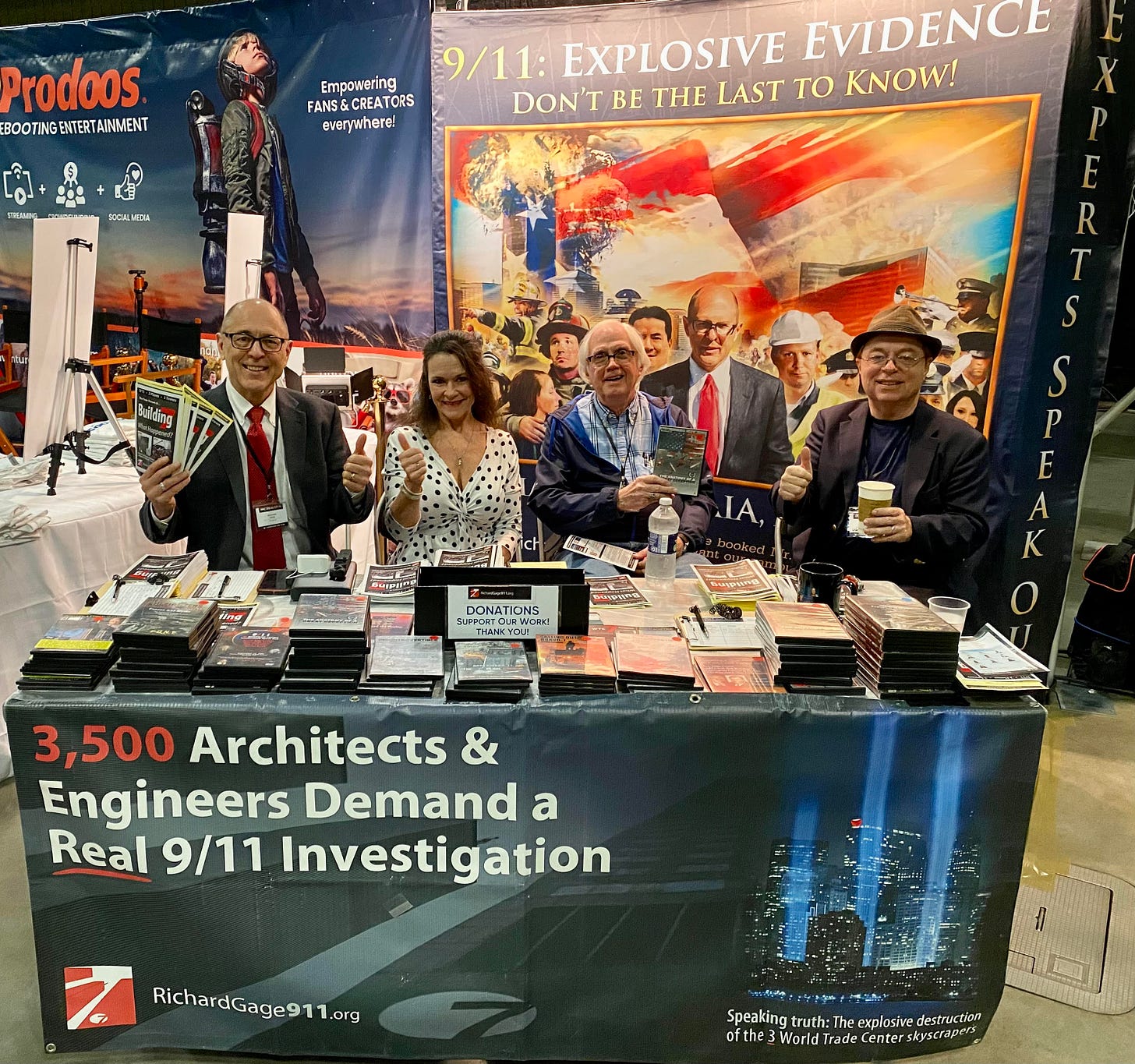 Our incredible volunteers, Ron Avery and Mark Anderson are on hand to help Gail & I be of maximum service in our Mission. Many times we had a half-dozen or more swarming our booth looking for 9/11 info. We have assembled the best DVD's in the 9/11 Truth Movement to arm those that are already activists or the hungry-for-truth types:
Firefighters, Architects, Engineers, Expose 9/11 Myths, Richard Gage
Anatomy of a Great Deception, Dave Hooper
Calling Out Bravo 7, Paul Kayley
Incontrovertible, Tony Rooke
September 11th: New Pearl Harbor, Massimo Mazzucco
Kevin Ryan / Steven Jones: Science and Society
9/11: The Myth & Reality, David Ray Griffin
And many more to come as we produce our own DVD's here at RichardGage911!!
We interviewed several of the very interesting visitors to our booth and attending the conference. One was trained in the US Special Forces – Tracy Powell:
Another was Bryan from Florida who was fairly new to the WTC evidence of explosive demolition. He and everyone who came anywhere near our booth was invited to our separate special event at the Chinese Bamboo Garden restaurant, after the INC '23 event, where we took the 2-hour deep dive into the evidence. Bryan got a taste of the evidence in this interview, and even a foreshadowing of our work inspired by Kevin Ryan on the Parallels between 9/11 & Covid:
Another visitor to our booth was self-named as "Juicy"! Gail and I had the honor of having lunch with this very bright gentleman who builds apps for smartphones and even offered to help us get our evidence and DVD's on our very own RichardGage911! app.
I also had the opportunity to interview my wife and assistant Gail – so that you could get to know her as well. She has a wonderful demeanor and style with newcomers to 9/11 Truth and I am continually amazed how much 9/11 evidence she has internalized and how well she teaches it! Let's get to know Gail better — she's become quite the asset for the 9/11 Truth Movement:
Video interviews of RichardGage911 at INC '23
Several podcasters and even the INC '23 event hosts themselves interviewed us. I've been after Mike Adams at Brighteon for years to get the 9/11 Truth onto his main TV show. And just the other day his assistant Sally contacted me to schedule an interview with him! We're growing in visibility all the time these days — following my departure from AE911Truth. The whole world is looking brighter for the 9/11 TM!
Here, Gail was able to capture a couple of minutes of my 20-minute interview by INC '23-volunteer and US Senate candidate — Scott:
Brighteon Radio's interviewer "Bob the Plumber" asked me to come onto his program following my controversial Panel appearance:
Independent Tulsi Gabbard Knocks it out of the Park for this Crowd
Oh! The actual speakers at the Independent National Convention! Did I forget them? Sort of… Here's a quick note:
I was very impressed by the address with Tulsi Gabbard which was straight from the heart. She was introduced by Mikki Willis, the filmmaker of the excellent Plandemic series of documentaries. Unfortunately we didn't have a chance to meet Tulsi personally – since she marched off the stage with her entourage following her very touching speech.

Tulsi provided the deeper meaning of "Aloha" – "I come to you with love and respect." We certainly do need more of that in our political process! She also seems to embody this attitude. But "Aloha" is not "naïve", and is not "niceness," she notes. "We are all quite connected to each other." She mentioned that it was a sad day for America that the incumbant political party had just indicted a former President and future candidate in an obvious political weaponization of the judicial system against him.
I think that many here would very much like to see her run for President again – this time as one of their own – an Independent.
Dennis Kucinich addressed his many successes that have modeled Direct Democracy and I highly recommend his talks. In fact, all of these speakers will soon be available for you to watch at INC23.us
Chris Hedges provided a rather bleak assessment of our modern power dynamic and political condition — understandably, yet offered a solution that appeared to me as a limited hangout — resurrecting the power of labor strikes with the goal to effect change and shift the balance of control from the elites to the workers. The crowd reaction was mixed. We would like to see Chris be more open to reviewing the WTC evidence and reporting on it.
Parallels: 9/11 & Covid – RG911
The Explosive Destruction of the 3 World Trade Skyscrapers on 9/11 – RG911
The Media Cartel & Pandemic Treaty,
Mark Anderson – American Correspondent for the UK Column; Founder of "Stop the Presses"