Hundreds of Upper-Level Independents Get 9/11 Truth Live & Online
[ See Report 2 of 3: The RG911 Evidence Booth ]
[ See Report 3 of 3: The RG911 Presentations ]
It was a whirlwind of a speaking tour — Austin will never be the same. Neither will Gail and I.
We've never had a week so packed with events, nor met so very many surprisingly "awake" people, making great future connections for radio interviews, podcasts, and other speaking events. My estimate is that half of these folks, who care about our country very deeply, were already on top of the truth about 9/11. Almost all of the other half got red-pilled by our presence on the two Panels or at our booth – and maybe thousands on the livestream!
Richard Gage, AIA, Architect is a reader-supported publication. To receive new posts and support my work, consider becoming a free or paid subscriber.
9/11 Truth has been dropped into the center of dialog at the Independent National Convention '23. We appeared on 2 important panels at the 2nd annual convention attended by hundreds, including independent political and thought leaders of our country. The first day we spoke alongside former Cleveland Mayor and 16-year Congressman Dennis Kucinich on the "Transparent Governance & Ethics Reform" Panel.
I had much to share about the key case study in "Government Transparency and Ethic Reform" — 9/11, from the Bush Administration and it's hijacked 9/11 Commission, through every Administration during the last 20 years — all of whom shielded the 9/11 criminals who executed the Crime of the Century — by remaining silent on the overwhelming evidence of the destruction of the 3 World Trade Center Skyscrapers on 9/11.
So I told this crowd of politically independent folks all about the free-fall symmetrical collapse of World Trade Center Building 7 in just 6 1/2 seconds. Through the course of our teaching opportunities at the Evidence Booth we learned that about half of them were unaware of the third tower that came down on 9/11. We were delighted to inform them!

Fellow panelist Dennis Kucinich told me back stage that I'd be surprised how many times at his speaking engagements people bring up to him "Building 7" – and that the Bush Administration wanted to use 9/11 for world domination. We traded contact info.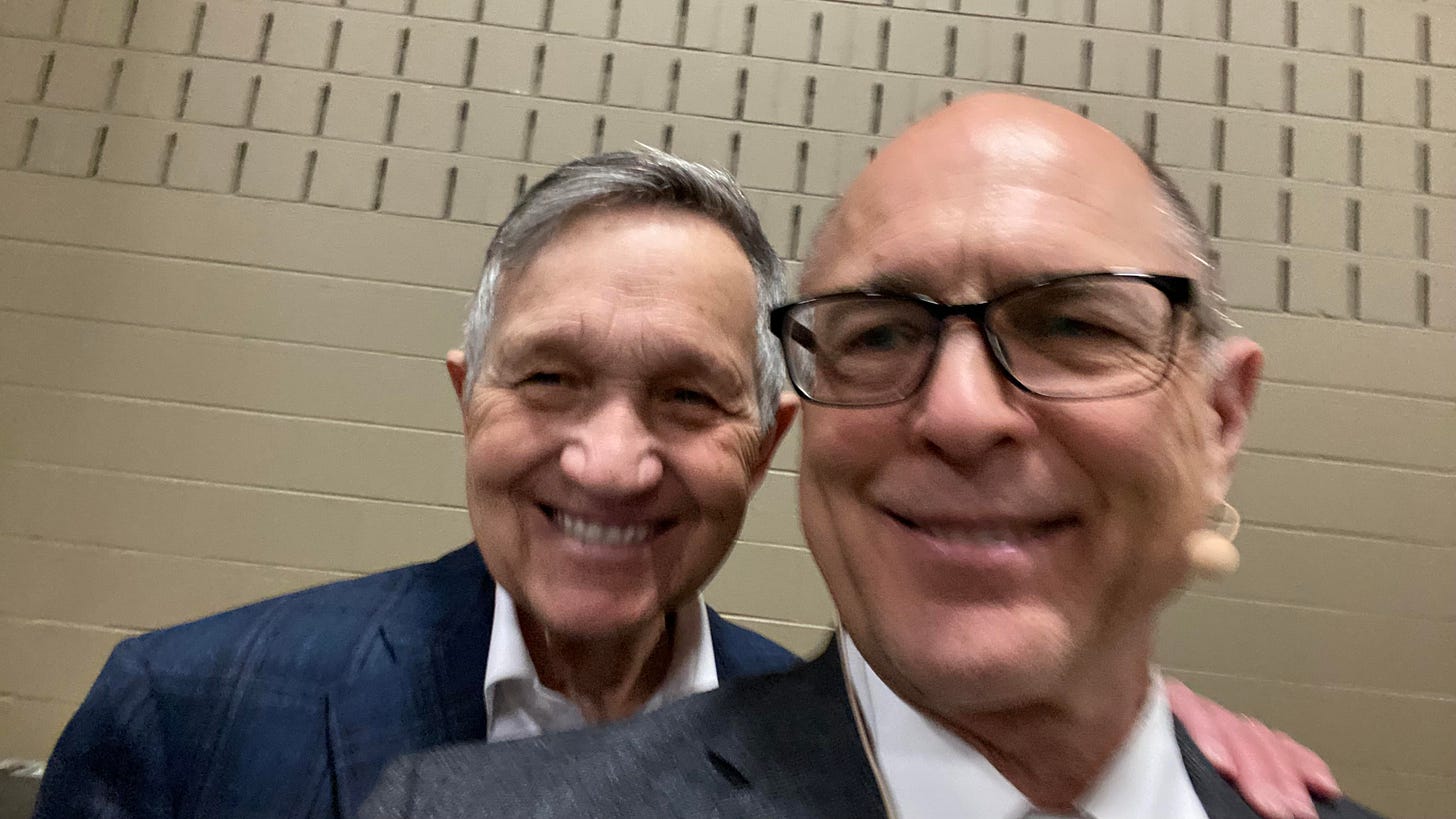 The invitation and involvement of the 9/11 Truth Movement in these higher level discussions with Independents from across the country is a clear sign of progress for us! This was a huge opening into these social and political spheres, and you could strongly feel it in this convention.
I had the opportunity to share in my second panel appearance our film series, 9/11: Crime Scene to Courtroom that we are making with the Lawyers' Committee for 9/11 Inquiry. I shared in the panel how this is a great example of "lawsuits" that are much-needed to bring about justice for the 9/11 victims' family members and also for the perpetrators of these crimes:
Those of us in the 9/11 Truth Movement are entitled to feel a great a sense of relief that we have entered this high-level series of discussions in a quasi-mainstream political arena. It has taken a lot of hard work on all of our parts over the years to penetrate public awareness — and our participation in this convention is among the fruits of that work.
And during the week we heard back from several dozen panel-session attendees and convention goers in general just how very important they thought it was for us to be here and expose this particular audience to the truth about 9/11. We listened to so many stories of their friends, family, and co-workers who simply could not see the very basic irrefutable facts that could have opened their eyes. We advise, "plant seeds and let them germinate — on their own time." We have to be detached from the fruits of this long-term labor of love.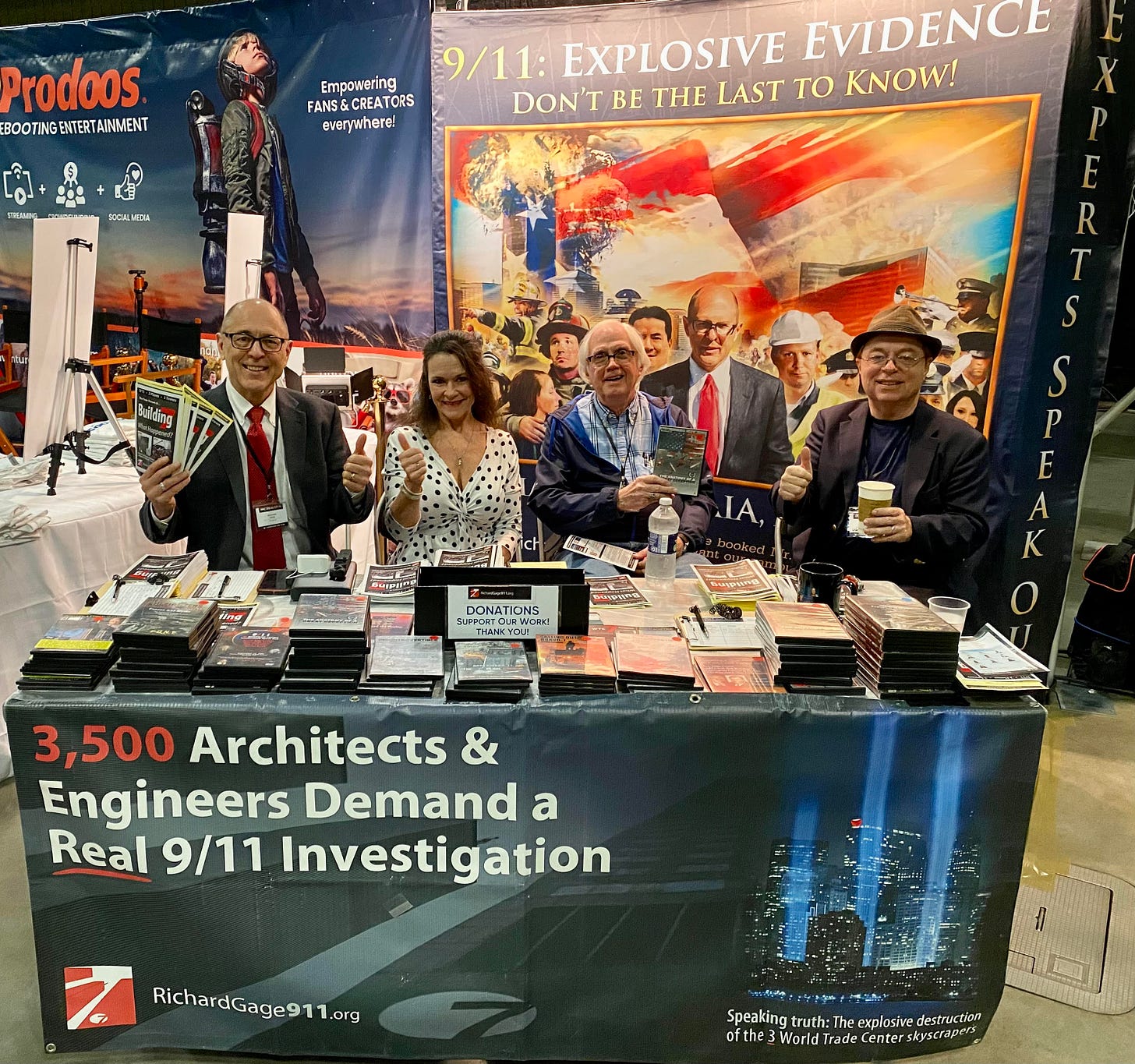 Until then, please be sure to: