My Guest on RichardGage911:UNLEASHED! – State Dept. Consulate – Jeddah, Saudi Arabia
Mike Springmann was right in the middle of it — between those who were to be trained as terrorists — and the United States where they were shipped to for that training. He tried to stop the insanity by doing his job as the head of the American visa bureau in Jeddah, Saudi Arabia — the official who could, and did, deny the visa applications of those who could never have qualified. But there was a greater force at play than this dedicated consulate.
While the US government claims to stand against terror, this same government refuses to acknowledge its role in creating what has become a deadly international quagmire.
Visas for al-Qaeda: CIA Handouts That Rocked the World sets the record straight by laying the blame on high-ranking US government officials.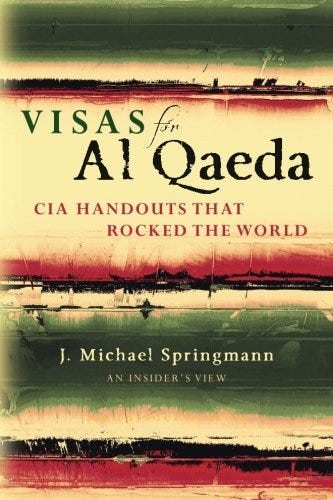 During the 1980s, the CIA recruited and trained Muslim operatives to fight the Soviet invasion of Afghanistan.
Later, the CIA would move those operatives from Afghanistan to the Balkans, and then to Iraq, Libya, and Syria, traveling on illegal US visas.
These US-backed and trained fighters would morph into an organization that is synonymous with jihadist terrorism: Al-Qaeda.
J. Michael Springmann is a former US diplomat, names individuals and organizations that deny culpability. He analyzes the effects of a nebulous war on the US economy and infrastructure. After thirteen bloody years, Springmann exposes hypocrisy and deceit wrapped in a sullied flag of patriotism and honor.
---
J. Michael Springmann is a former U.S. State Department official having served as a diplomat in the Foreign Service with postings in Germany, India, and Saudi Arabia.
He previously authored, Visas for Al Qaeda: CIA Handouts That Rocked the World: An Insider's View, recounting how the U.S. created and used Islamic Terrorism.
Additionally, he penned Goodbye, Europe? Hello, Chaos? Merkel's Migrant Bomb, an analysis of the alien wave sweeping the Continent. He currently practices law in the Washington D.C. Area. He is a frequent commentator on Arab, Russian, and Iranian news programs.
World's News and Geopolitical Research, by J. Michael Springmann
Articles have included the 100 Year War, an account of the American effort to destroy the USSR and the Russian Federation, Failed American Health Care, about problematic Sibley Hospital in Washington, D.C., Virginia Is For Losers, the story of a government that is suffused with racism, and four articles about his recent trip to the Islamic Republic of Iran, Modern Iran: A Study In Contrasts.